Feb 4, 2018 07:07 PM Central
The Refinery Oils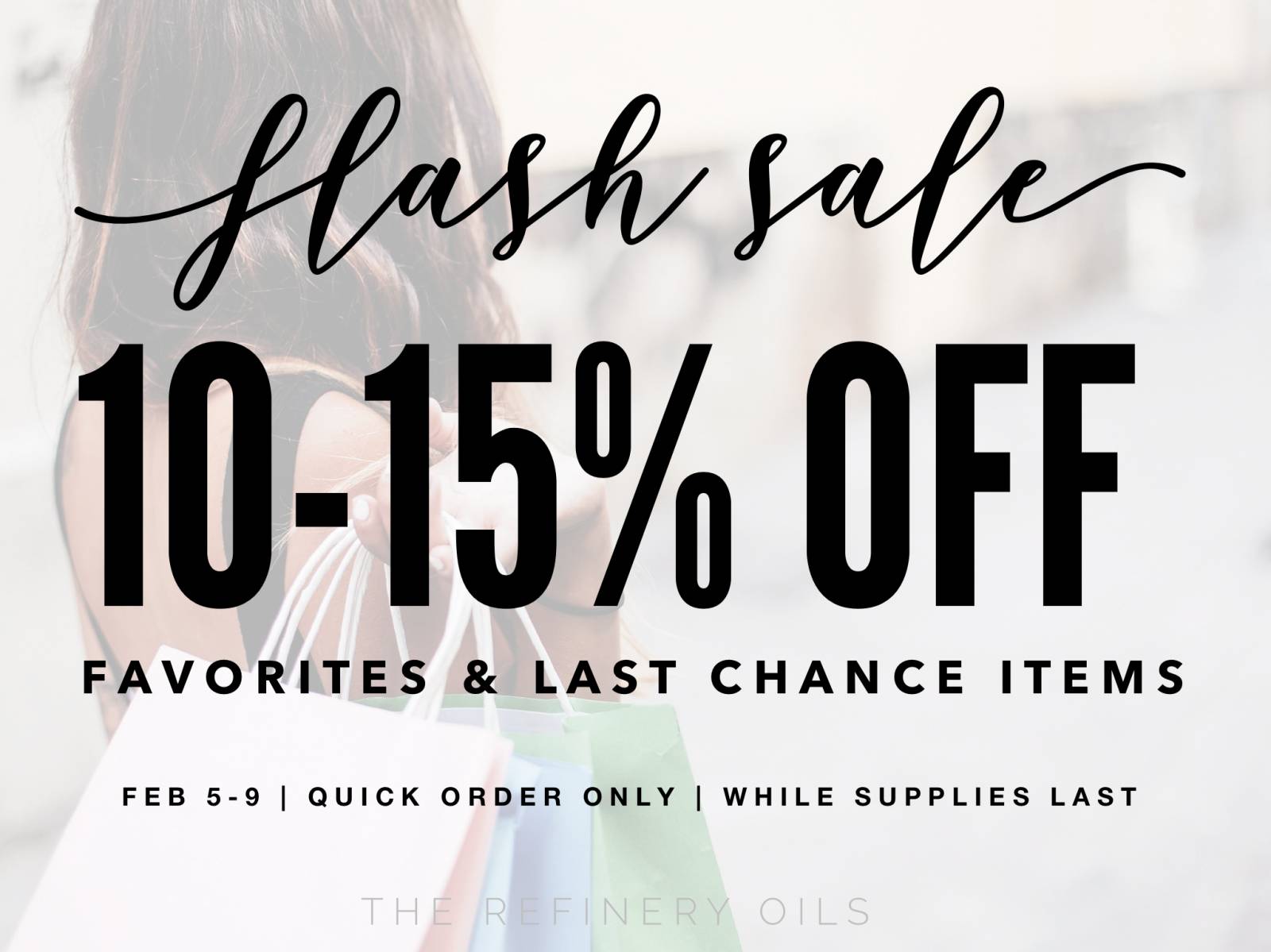 SALE SALE SALE!

Seriously this is one KICK BUTT SALE! I am totally taking advantage of this. I'm stocking up on my favs and getting gifts for friends and my YL leaders.

February 5 at 8 a.m., MT, until February 9, get 10–15% OFF a TON of amazing YL products!

Any products with a ✅ means this is the LAST chance to get your hands on these. Once they are gone, they are GONE FOR GOOD!


This selection literally covers every aspect of your life. Choose oils and products to support fitness, cooking, beauty, digestion, family health, managing work and so much more. Make your list tonight, so you are ready to add the products to your cart in the morning and order when the sale goes live. These sale items WILL GO FAST!

10% OFF PRICE AND PV

•Aria™ Ultrasonic Diffuser (#4524D) Plays relaxing music. YES PLEASE! #HOMESPA
•Rainstone™ Ultrasonic Diffuser (#5331D) So pretty and runs all night long.
•Gratitude™ 5 ml (#3346D) Such a great reminder to be thankful.
•Motivation™ 5 ml (#3384D) A little gym, work, and cleaning motivation.
•DiGize™ 5 ml (#3323D) Great for a tummy roller.
•HydroGize™ Water Bottle—Purple (#5775D) Hydration Station =)
•HydroGize™ Water Bottle—White (#5777D)
•Essentialzymes-4™ (#4645D) - Digestive support. I will never be without these amazing little pills EVER again!
•Cool Azul® Sport Gel (#5436D) Soothes Muscles
•Cool Azul® essential oil blend (#5399D)
•Shutran Shave Creme (#5157D) Great Valentine's present for your parter. Or yourself- I use it on my legs! It smells soooo good!
•Coconut-Lime Replenishing Body Butter (#20225D) Helps keep your skin silky soft!
•Christmas Spirit™ essential oil blend (#3315D) one of my year round favorites!
•DIY Kit (#21625D) Get together with your friends and make some fun goodies!
•AlkaLime® 8 oz. (#3199D) - Supports healthy pH.
•Thieves® Fruit & Veggie Spray 2 oz. (#5348D) Clean fruit and veggies.
•Christmas Ornament (#23006D) I have mine out on a little stand still!
••••••••••••••••••••••••••••••••••••

15% OFF PRICE AND PV

✅BBQ Set* (#21639D)
Apron, Silicone gloves, Rosemary Vitality™, Thyme Vitality™, Black Pepper Vitality™, Lemon Vitality™, and Orange Vitality™
✅USB Diffuser—White* (#5224D) Super convenient way to diffuse while you work.
✅USB Diffuser—Pink* (#5225D)
✅Excite™ essential oil blend* (#19804D)
✅Core Vitality Case—Gray* (#5661D)
✅Core Vitality Case—Yellow* (#5662D)
✅Aroma Carousel™* (#4832D)
✅ART® L'Brianté™—Pink/Summer Scent* (#5075D) Lip gloss and perfume in ONE!
✅ART® L'Brianté™—Neutral/Winter Scent* (#5076D)
•Bath Pillow (#22991D) SOOOOO COMFY in the tub.
•Slap Bracelet (#22996D) Great for kids.
•Savvy Minerals by Young Living® Holiday Collection (#21952D)
SET INCLUDES: Savvy Minerals-Branded Clutch, Travel-Sized Eyeshadow Brush, Four 0.8g Eyeshadows: Midnight (Charcoal with Shimmer), Cashmere (Peach-Ivory with Shimmer), Cheers (Gold-Bronze with Shimmer), Times Square (Taupe with Shimmer), plus a 6.2g Lip Gloss: Rockin' (Muted Berry with Shimmer). Ummm did I mention the lip gloss has a mirror and light built in? SCORE!


Quick Orders only, while supplies last so you BETTER ACT FAST!