Jul 1, 2017 02:36 AM Central
The Refinery Oils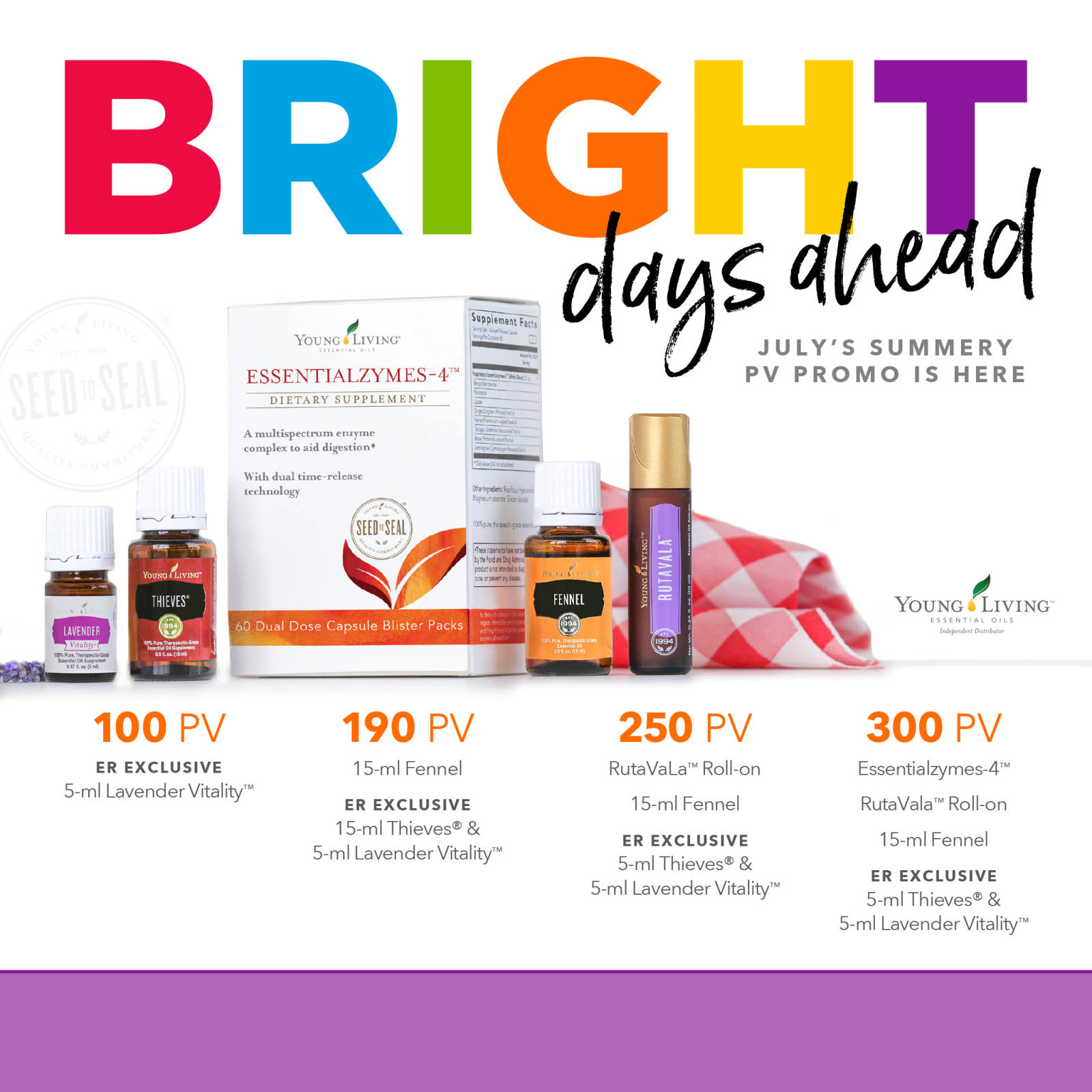 Young Living has put together the PERFECT combination of must-haves to help you enjoy your summer!! See below for qualifying purchases and gifts!
* 100 PV Essential Rewards-5ml Lavender Vitality!
🍋 What a perfect gift for summer- perfect for some Lavender Lemonade!🍋
6 lemons, juiced
1 lime, juiced
½ cup honey or agave nectar
2 drops Lavender Vitality essential oil
Ice water, about 10 cups
Instructions
Combine lemon juice, lime juice, honey, and Lavender Vitality in a large glass pitcher.
Add water to taste.
Stir until well mixed.
Enjoy a hint of Lavender Vitality in your favorite jams, ice creams, sorbets, shortbread cookie and pound cake recipes, and more! You may even want to try combining with herbs such as thyme, rosemary, and oregano in your favorite savory dishes! A little goes a long way, so start with a bit on the end of a toothpick and go from there! Enjoy!!
* 190 PV -15ml Fennel!
Fennel's rich, licorice-like scent and tendency to create a grounding atmosphere make it a popular choice for use in soaps, candles, and perfumes! Try diffusing at work or during tasks that require focus. Many nursing mamas enjoy the peaceful aroma Fennel creates for themselves and their babies when either applied topically or diffused, and still others find Fennel soothing when applied to the tummy after a heavy meal.
Try applying 1-2 drops of Fennel essential oil to freshly washed skin, along with your ART Refreshing Toner, to reduce the appearance of pores, or add a few drops to your ART Gentle Cleanser to enjoy added cleansing benefits!
* 190pv Essential Rewards-15ml Thieves!!
This powerful combination of Cinnamon, Clove, Lemon, Eucalyptus Radiata, and Rosemary is a powerhouse that we use virtually everyday! Thieves is formulated after the legend of 15th century French thieves who used clove, rosemary, and other aromatics while robbing the dead and dying. One of Young Living's most popular blends, Thieves boasts its own line of home and personal care products! Apply Thieves essential oil blend topically (you may wish to dilute) to desired areas, or diffuse to enjoy its spicy fall scent. Combine with baking soda to create a toxin-free carpet freshener, or add to your dishwasher, dryer balls, or any other area you wish to aid cleaning and eliminate unwanted odors!
*250 PV - RutaVaLa Rollon!!!!
This one is the one I am most excited about! RutaVaLa Rollon has been out of stock since July '16 (an ENTIRE year), and is not expected to be available for purchase for several more! This is your chance to get your hands on limited supply until then!
A combination of Ruta (Rue), Valerian, and Lavender, RutaVaLa is our family's ultimate bedtime blend and travel companion! Apply to the wrists after a stressful day at work, the back of the neck and/or bottoms of feet as part of your evening wind-down, or use as part of a relaxing neck massage. If you have been looking for a must-have blend to add to your, "aaaahhhhh," collection, THIS IS IT!!
* 300 PV -Essentialzymes-4
Say what?! This multi-spectrum enzyme complex is formulated to aid the body in the digestion of fats, proteins, fiber, and carbohydrates. Our modern-day processed diets and on-the-go lifestyle, as well as decreased enzyme levels in the healthy foods we eat, make enzyme supplementation crucial to our overall well-being. Dual time-release technology releases animal- and plant- enzymes at just the right times in the digestive tract for optimal nutrient absorption, and convenient blister packs make Essentialzymes-4 perfect for on-the-go.
With all the new products, July is the perfect time to stock up on some summer essentials! Lavaderm Aftersun Spray, Mineral Sunscreen, Insect Repellant even Seedlings Baby Wipes for the whole family when you are on the go! Toss the wipes in your pack for a great summer hike and no need to worry when its time to clean hands for lunch or to clean dirt off!
Be sure to make the most of your Essential Rewards orders by taking advantage of these generous gift offerings!!